29.8.22
Senior ladies
Hard luck to our senior ladies who were beaten by St. Nathy's in round 2 of the Senior Championship on Sunday morning. The ladies battled hard and showed moments of brilliant football, however a stronger St. Nathy's side emerged victorious 3-17 to 1-5. Our young side were also missing some key members of the squad. Next weekend we host Geevagh at 10.30am on Sunday morning September 4th.
Junior ladies
The junior ladies had their second championship outing away to Drumcliffe/Rosses Point on Saturday evening. In an entertaining game the home team led by 4 points at the break. It was a keenly contested second half and St. Mary's equalised with a last minute Grainne Egan free to finish on a scoreline of  3-10 to 2-13. Next up is away to St. John's on September 10th.
Junior men
Our Junior 'A' and Junior 'B' mens teams are both in championship action this weekend. On Friday our Junior 'B' team host Eastern Harps in Kent Park at 7pm, and on Sunday the Junior 'A' team face Shamrock Gaels in Corran Park at 4pm.
U15 boys
Well done to our U15 boys team who beat Ballymote/Bunninadden in the county semi-final last week. They have qualified for the 'A' Championship final against Enniscrone/Kilglass which will be fixed for either Wednesday 7th or Thursday 8th or September.
U8 girls blitz
We are delighted to be hosting our inaugural St. Mary's GAA U8 Girls Blitz this coming weekend, Saturday September 3rd. The blitz will be a 7-a-side competition and we are welcoming St. Molaise Gaels, Coolera/Strandhill, St. John's, Shamrock Gales and Drumcliffe/Rosses Point who will each field two teams on the day. The blitz offers the girls plenty of football in an enjoyable environment – games will begin at 1pm and a presentation will take place on Kent Park at 2.45pm. If you are available to assist on the day please contact Ian O'Sheibhlinn, Grace Davitt or David O'Halloran. Full details can be found here. 
St. Mary's All-Stars
St. Mary's All Stars – football coaching and fun for kids with additional needs aged 5-12 in a relaxed environment – will run every Saturday morning in September under the Healthy Clubs programme! Starting on September 3rd it will run for 4 weeks from 9.30-10am. Parents are requested to stay and play, and places can be booked in advance by contacting Maggie Heylin: 086 1228104 | hmaggie637@gmail.com Looking forward to welcoming everyone and building on our Cúl Eile camp and brilliant trip to Croke Park!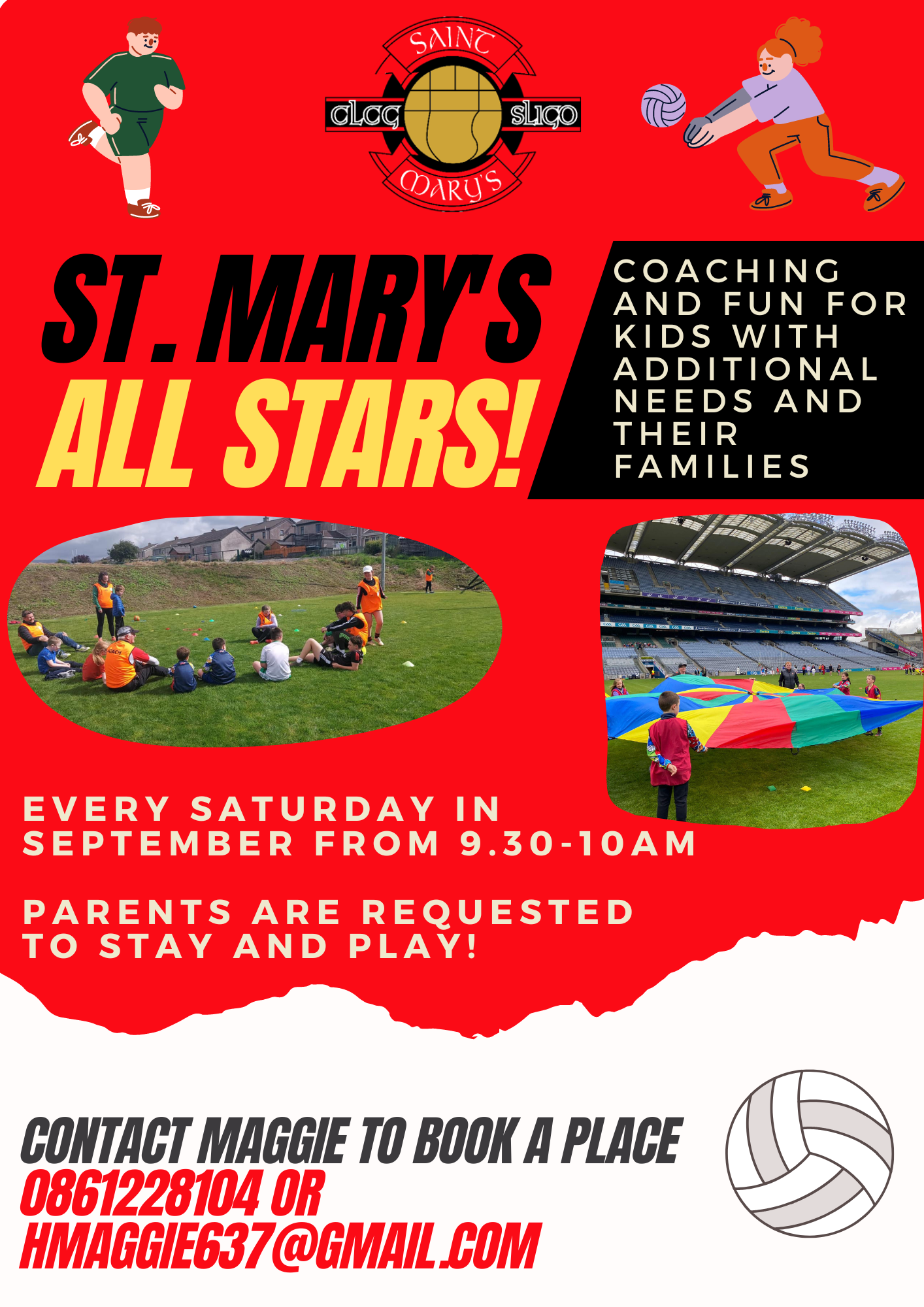 Follow us on Facebook, Twitter and Instagram to stay up-to-date with all things St. Mary's.
By dylankilgallon
Mon 29th Aug