Have a look through our Club History below.  The associated picture gallery is divided up by decade starting with the '60's – please click on any year to choose the relevant decade.  Enjoy the memories.
1930
First mention of a town team called St. Mary's who concentrated on the promotion of minor and junior football in the town.
1965
The first meeting takes place to discuss the possibility of forming a new club in Sligo town and is held in Our Lady of Lourdes Boy's Club, O'Connell Street (behind the present Body Shop). The meeting was called by Fr. Gerry Donnelly, a native of Kiltoom, Co. Roscommon. He felt the formation of a GAA club would foster a healthy mind and body amongst the youth of Sligo town and would complement soccer, boxing and basketball which were already catered for.
1966
Muire Naofa is formed. A £2,500 bank loan is secured and through the foresight of Dick Kent the club purchases land for the first playing pitch at Ballydoogan. Founding members included Dick Kent, Paddy McGuire, Jim Colleary, Tom Carroll and Roger Eames who provided personal guarantees (a big undertaking pre-Celtic Tiger days!) for the loan to purchase 9.3 acres of land from Kevinsfort Farm at Ballydoogan.
1968
A very young and inexperienced Muire Naofa enters the Senior Championship for the first time. The club starts to build a reputation from the outset for an attractive brand of attacking football that continues to this day. Gerry Hegarty, Padraig Ferguson, Kieran Conway and Dessie Kearins represents the fledging club on the Sligo Minor team that wins a Connaught title and reaches an All-Ireland final losing out to eventual winners Cork.
1974
Barnes Murphy becomes the first former St. Mary's player to win an All-Star.
1975
Sligo wins the Senior Connaught title containing four members of Craobh Rua – Barnes Murphy, Michael Laffey, Dessie Kearins and Tommy Carroll. Barnes, Michael and Tommy go on to play on the first St. Mary's team in 1976.
1976
Muire Naofa and Craobh Rua amalgamate to form St. Mary's GAA Club. On formation, the club had one pitch, an eighteen-hole pitch 'n' putt course, a timber shed and some unused ground. Competing in the club's first-ever senior championship, we are beaten by Tubbercurry in the final. We win our first under-age county titles in U-16, U-14 and U-12.
1977
Fr. Cyril Haran is appointed Team Manager in the Spring of 1977. St. Mary's win our first County Senior title beating St. Pats and becomes the first club in Sligo to win a Connaught title. The first development ever carried out involved the purchase of a 'green hut' to accommodate a team and subs. Mick Laffey is selected to play for Connaught in the Railway Cup for the first time.
1978
All Ireland Club 7's Runners up in Kilmacud. Beaten in the All Ireland Football Semi-Final by Thomond College 1-12 to 1-08 in Limerick; the match report can be accessed here. Thomand beat Nemo well in the final.
1979
Formal Development Committee formed to plan for the future. Start of our first three-in-a-row of Senior County titles and a win in the Connaught seven-a-side tournament.
1980
Monday 1st September saw the first sod turned in the building of dressing rooms. Also, in September we become the first Connaught team to win the All-Ireland Club 7-a-side title in Kilmacud. The club also captures its second Connaught Senior Title.
1981
The club completes its first three-in-a-row of Senior County titles against Eastern Harps. Also win the Ulster seven-a-side competition in Castlewellan.
1982
A new clubhouse is built with handball/racquetball court (1), squash courts (2), bar and meeting rooms. Regain the Ulster seven-a-side title. Mick Laffey earns his second call up to play for Connaught in the Railway Cup.
1983
The club wins its third Connaught Senior title. Clubhouse is officially opened on the 16th October by George Birmingham TD.  An All-Star Team takes part in an exhibition match at the opening.
1984
Introduced hurling to the club through our sister club Naomh Eoin who share our facilities.  Senior County Champions again.
1985
The club completes its second three-in-a-row of Senior County titles. Summerhill College win the Connaught c/ship losing the All-Ireland Final narrowly to Colaiste Chríost Rí, Cork – the team is backboned by our minor club players with 10 starters in the final and a number on the wider panel; clubman TJ Kilgallon and fellow Mayo man Peter Forde make up the management team.
1987
A large draw to clear the club debt that existed is organised. An eighth Senior County title is won.
1988
Developed All-Weather Prunty style enclosed pitch with maximum dimensions.
1990
All-Weather pitch officially opened by the then GAA President Peter Quinn and EU Commissioner Ray McSharry.
1992
Clubman TJ Kilgallon wins an All-Star award for his performances with Mayo.
1993
All-Weather pitch is re-named Dick Kent Park in honour of one of the founders and driving forces behind the club. Club captures its first Junior title.
1994
Clubman Aidan Rooney wins a Connaught senior title with Leitrim footballers, their first since 1927.
1996
The club bridges a gap of nine years to capture Senior County title number nine. John Kent wins his ninth county senior medal, the most county medals won by any St. Mary's player in the club's history. We are also successful at the Junior grade that year also.
1997
The club bridges a gap back to 1987 winning a minor title with two exceptional teams in the final – the collective panels would boast an international & Div 1 US College MVP basketball star, three players who would go on to play League of Ireland, an under-age soccer international with Brian Kerr, a future Junior World Cycling Champion, several players who would win Connaught with Sligo in 2007 and finally some well known world famous pop-stars!
1998
The club fields its first ladies team and succeeds in winning its first trophy by capturing the Sligo Junior League title. We also qualify for the Junior championship final where we are beaten by Castleconnor.
1999
The club succeeds in capturing the Sligo Ladies Junior Championship title beating Cloonacool in the final. Converted 2 squash courts into 4 classrooms for use on lease by Gaelscoil Chnoc na Re with 115 pupils which is the first of its kind in Sligo. Provided tarmac car parking and public lighting.
2000
Provided spectator terracing on one side of pitch with use of FAS sponsored Community Employment Scheme. Underage Coaching on a Saturday morning is formalised under the stewardship of TJ Kilgallon. Junior and U21 titles are won. John Kent is honoured by being one of the 10 players named on the Kilmacud Seven's Team of the Millennium (1973-1999); he also picks up a Sligo Champion Club All-Stars Hall of Fame award and wins his final competitive medal with the club as a player, a Junior title.
2001
The club celebrates its 25th anniversary by winning its tenth Senior County title to date. Twenty- one of the twenty-five winning senior panel are natives of Sligo town, a far cry from when the club was first founded. Club becomes Sligo and Connaught AIB Club of the Year based on our under- age work, adult success and development plans. Plan to upgrade dressing rooms, provide additional terracing and upgrade sewage as well as providing a juvenile pitch on club grounds is drawn up. Liaising with Sligo Corporation to provide an all-weather enclosed pitch on adjoining lands for use by the club.
2002
Our first wave of underage players from the Saturday morning coaching scheme win U-14 Championship, League and Feile competitions. Mark Breheny tops the senior championship scoring charts for the third year in succession.  Our Ladies win another Junior title.
2003
Ladies Football goes from strength to strength as the Sligo Ladies Senior County title is won. St. Mary's web site goes online. Electronic Scoreboard is put in place kindly sponsored by permanent TSB.
2004
A second ladies senior title is won. We record a great win in the U-16 county final reflecting the hard work being carried out at under-age level. Unfortunately, we are beaten in the senior county final after a replay.
The lease with the gaelscoil is renewed. Mark Breheny and Johnny Davey represent Sligo on the Connaught Railway Cup team.
2006
Tommy Breheny (Manager) and John Kent (Selector) take charge of the Sligo Senior Football team following in the footsteps of club men Tommy Carroll, Mick Laffey, Peter Forde, TJ Kilgallon and Barnes Murphy. U-10 Maugheraboy team comprising of St. Mary's players win Connaught GAA Community Games title and come third in Mosney. Pupil numbers in the Gael Scoil reach 166. Mark Breheny travels with the Connaught team to Boston to compete in the Railway Cup final.
Sligo Ladies win the Junior All-Ireland title with club players Fiona Maye, Caroline Currid and Niamh Mannion on board. There is a renewed interest in Scor under the stewardship of Peter Farrell resulting in many county and provincial titles in the coming years; Niamh Ní Fhearghail wins Connaught in Amhránaíocht Aonaoir (Solo Singing).  A U12 girls team is formed to start an under-age girls section.
2007
Sligo win Connaught Senior title for the 3rd time in our history and first since 1975 with Tommy Breheny and John Kent at the helm and Johnny Davey, Johnny Martyn and Mark Breheny as players. Mark captains Connaught in the Railway cup, only the 2nd Sligo man to be given that honour. Tommy is named as Sligo Person of the Year for his achievements as Sligo Senior Manager that year. Éanna O Dónail wins Connaught in Aithriseoireacht/Scéalaíocht (Recitation & Storytelling) with his own composition.
A new development committee is formed, expertly led by Francis Fidgeon, to ensure that the club continues to improve on the existing infrastructure. Work begins on development plans to extend the existing dressing-rooms and alter the entrance to the clubhouse.
2008
Niamh Ní Fhearghail wins Connaught Scór na nÓg, Amhránaíocht Aonaoir (solo singing) competition. The inaugural Clifford Cup in memory of the late Paddy Clifford is held in Kent Park.  The groundworks advance on the construction of the new dressing-rooms.  Our girls U-14 team win the league, the championship and Féile, a first for the club. The Féile Team travelled to Lavagh in Cavan that year and were beaten in the All- Ireland Semi- final.
2009
A significant amount of work in recent years comes to fruition with the official opening of the new dressing-rooms by Dr. Jimmy Devins TD.
2010
Unique club event encompassing a relay run from Ballydoogan to Croke Park in 20 hours just prior to All-Ireland Football final raised €24,000.  Johnny Davey and Mrs. Kent acted as the honorary starters of this great event.
2011
U14, U16 & Minor champions; U14 boys become the first Sligo team in 21 years to reach the National Final of Feile in the old Pairc úi Chaoimh where we were runners-up to the physically stronger Moyle Rovers of Tipperary. Our Senior ladies won the Connacht Junior  7-a-side in 2011.
2012
U16, Minor & U20 champions; Senior c/ship runners up v Curry; Niamh Ní Fhearghail wins Connaught & All Ireland Senior Scór in solo singing (Amhránaíocht Aonaoir ) competition in Killarney.
2013
Ladies County Junior title continuing the development of ladies' football which goes from strength to strength in the coming decade, most notably at under-age.
2014
Senior league winners v Tourlestrane after extra time – 1st league title in 25 years; Senior c/ship runners up v Tubbercurry; Junior A c/ship winners v Owenmore Gaels. Mark Breheny plays on the Connaught Railway Cup team that wins the competition for the first time since 1969, his 8th and final appearance. Our club-grounds play an integral part of the success of the All-Ireland Fleadh coming to Sligo as we provide camping facilities & hospitality for many of the participants.
2015
Senior Champions v Curry 1-20 to 2-11; U12 Boys won the Clifford Cup for the first time, with strong Clifford family connections – the team managed by John and Paddy's eldest grandson Sean playing.; Our U18 Minor team completed 5 years of league and c/ship doubles 2011-2015; won Senior, U21 & Minor titles in same year. Several club players on the county minor team that won the Connaught Minor League title for the first time in 30 years – they also played with Summerhill the following year. Sligo hosts the All-Ireland Fleadh for the second year in a row and again we successfully provide camping facilities & hospitality for many of the attendees. Club team of TJ Kilgallon, John Lynch and Peadar Neiland win Ocean FM's Sports Quiz.
2016
Intermediate Ladies League winner's; from 2012 – 2016 we won U20/21 titles except for '13 & '14 when competition was not played. Senior c/ship runners up v Tourlestrane. Summerhill College wins their 8th Connaught A Schools Senior c/ship in the first ever all-Sligo final beating St. Attracta's – this ends a 31 year wait and again the team is backboned by club players.
After the sad passing of one of the original club founders, Roger Eames, during the previous year, Cathal O' Donnell is appointed as Club President at this years AGM held in January.
2017
Intermediate Ladies C/ship winners – back playing senior ladies' football for the first time in a decade; this team qualified for the Connaught Final beating Western Gaels in the semi before losing to Moycullen.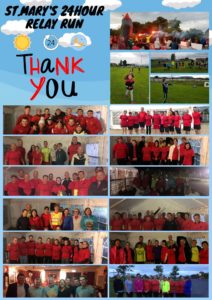 2018
Another unique club fundraising event is held where 12 teams completed a 24-hour run in Kevinsfort – this involved approximately 200 participants and a large crew of support volunteers and very much captured the imagination of the wider community. U21 champions – this team created their own piece of history by winning every c/ship at its top year from U12 to U21 (including Feile).  Sharon Carleton is awarded the LGFA Club Secretary of the Year for her work with the club.
2019
Host club for the national U14 Feile competition – Western Australia was one of the unique teams playing in Kent Park; our U14 boys lost narrowly to Clongish in the Div 4 All-Ireland Final. The new training pitch is constructed adjacent to our main pitch – a very welcome addition to help accommodate our ever-increasing numbers playing Gaelic Games  The U10 Girls have the distinction of being the first team to play a match on it.
2020
Covid19 puts a stop to all club activity on several occasions throughout the year but we battle on regardless. The new road infrastructure adjacent to the club grounds is complete and opens to the public in January 2021.
The season has a delayed start due to COVID-19 and our U12 boys win the 2020 'A' title which was postponed. Sligo win the minor boys Connacht championship for the first time since 1968 and we have 5 representatives on the panel – Ronan O'Hehir, Ronan Niland, Robert O'Kelly-Lynch, Saeedi Tumuheirwe, and Max Burns Flynn. Tara Breheny wins a Connacht title with Sligo ladies U16s. Our minor boys are 'A' league champions and minor girls win the 'B' shield. For the first time ever, we field two adult ladies' teams to compete in both the intermediate and junior 'C' championships. Our clubhouse terrace is revamped by volunteers to accommodate outdoor dining in accordance with COVID-19 regulations, and the club gym is expanded and upgraded.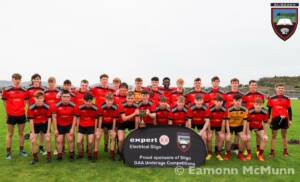 It's a highly competitive year for our club on the pitch. We field 5 adult teams for the first time in our history – men's senior, junior 'A' and junior 'B' and ladies intermediate and junior 'C'. Our senior ladies' team are intermediate county champions for the second time during Shane Breheny's tenure, and are narrowly beaten by Boyle in the Connacht semi-final.  Our senior men are beaten in the county final after extra time by Tourlestrane, while our junior ladies reach both league and championship finals. Our minor boys win the 'A' league and championship double, and minor ladies are A2 champions. The U15 boys are 'A'  league & championship winners, and our U14 girls are 'A' championship winners leaving us with a full trophy cabinet. At intercounty level, Sligo win the U20 boys championship for the first time and we have 3 panel members in Fionn O'Hehir, Jay Cox, and Eamon Flynn. Sligo Ladies win the Minor 'B' championship with Tara Breheny and Cianna Ruddy representing St. Mary's. The county U16 boys win the Manning Cup with another 5 St. Mary's panel members in Eli Rooney, Clyde Regan, James Cronin, Ashraf Tumuheirwe, and Matthew Mullholland.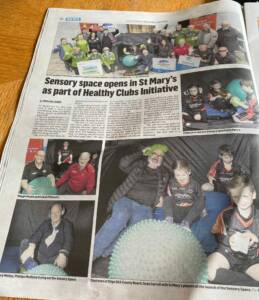 Off the pitch the club reaches new heights. We launch a 'St. Mary's All-Stars' initiative under the stewardship of Maggie Heylin which offers football training and fun for kids with additional needs. We open a new sensory space as part of this initiative. Our club facilities are upgraded – the clubhouse is refurbished, new fencing is installed around Kent Park main pitch, Oates Breheny sponsor a new electronic scoreboard, the pitch perimeter is cleared to provide additional car parking and a full, clear walkway around the main pitch, and steps are installed between the training pitch and main pitch. We host 40-, 25- and 20-year reunions for our 1981, 1996 and 2001 men's county champions welcoming many club legends back to the clubhouse. Phillips Medisize come onboard as main club sponsors. We run a hugely successful club fundraiser in partnership with Sligo Cancer Support Centre and St. Cecilias School – following the 24-hour run/walk structure of the fundraiser in 2018. 12 teams take part ensuring that community members are active for 24 hours straight throughout the light, darkness, rain and fog.  
2023 to 2030 – as of now who knows! Join the club & help write the next few chapters………
The above reflects the achievements of the club to date and is the result of the hard work and commitment of the countless volunteers since 1976 and before. Not all under-age success is noted above – please refer to the Roll of Honour.
If you feel there is any significant milestone omitted we apologise in advance and would be happy to rectify (please note this is a general summary of key milestones and is not intended to be a full, historical representation of the club to date – that will be prepared in time!).
If you have any photo you would like included please contact David Keane 086 8367005.
Railway Cup Honours as of 2020
Barnes Murphy – Connaught – 1973, 1975, 1976 & 1978
John Kent – Connaught – 1981, 1982, 1983, 1984, 1985 & 1986
Tommy Breheny – Connaught – 1994, 1995
Mick Laffey – Connaught – 1977, 1982
Martin Keaney – Connaught – 1987
Declan McGoldrick – Connaught – 1987
TJ Kilgallon – Connaught – 1984, 1985, 1986, 1988 & 1989
Christy Murphy – Connaught – 1982
Peter Forde – Connaught – 1989
Tom Foley – Leinster – Combined Universities – dates unknown
Mark Breheny – Connaught – 2004, 2005, 2006 (final in Boston), 2007 (capt), 2009, 2012, 2013 & 2014 (winners)
Jonathan Davey – Connaught – 2005
Paddy Clifford – 1941
Fina Golden (1993), Caroline Currid (2005) and Fiona Maye (2006) have also received inter-provincial honours in ladies' football.