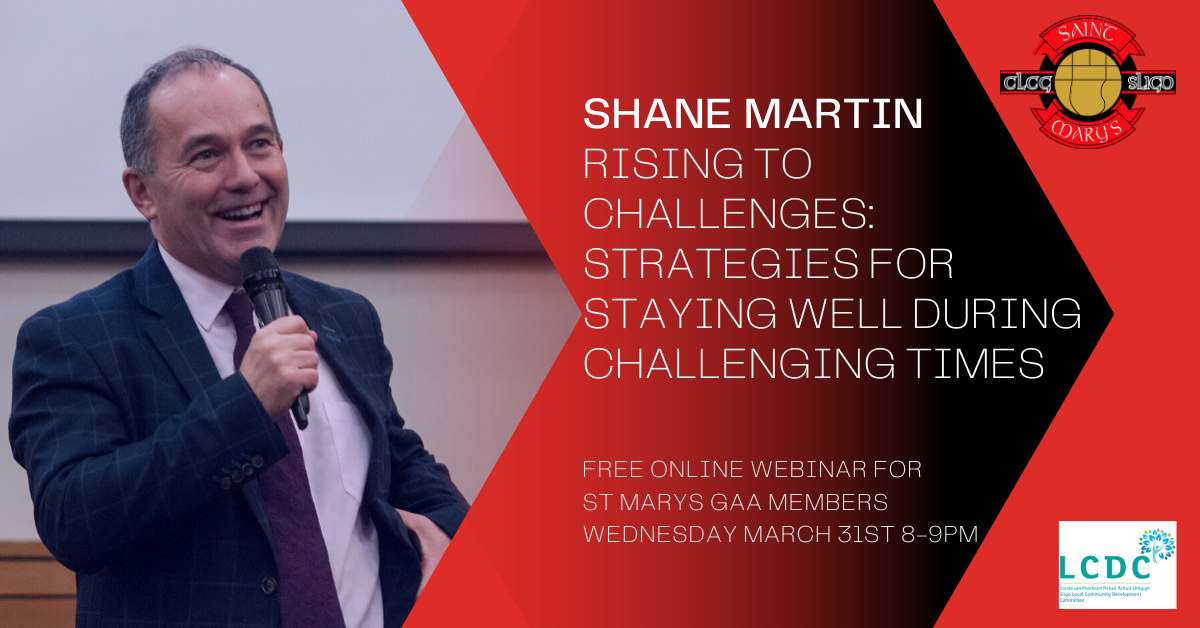 March 31, 2021 @ 8:00 pm - 9:00 pm FREE Online Webinar
Rising to Challenges – Strategies for Staying Well during Challenging Times
Date: Wed March 31st from 8pm – 9pm (45 minute approx. talk plus live Q&A)
Webinar Hosted by St Marys GAA for its members and families
Open to all Club Members and their families aged 16 and over
To book your place please register by entering your name and email in the form below – the event link will be emailed to you prior to the event.
THE FACILITATOR: 
Shane Martin C.Psychol., Ps.S.I.
Shane Martin is a psychologist dedicated to teaching the very best self-help psychology to empower people to enhance the quality of their lives. His Moodwatchers well-being programme has been delivered to community groups the length and breadth of Ireland. He has been a keynote speaker at numerous conferences on a range of topics around empowerment, recovery and happiness. A leader within the area of education, he has visited hundreds of educational institutions throughout the island of Ireland working with management teams, teachers/lecturers, students and parents. Shane has also provided training to many of Ireland's leading business organisations within the public and private sector. He has delivered training to health professionals at hospitals throughout the country. He is the author of the best selling  self-help psychology book 'Your Precious Life – How to Live it Well' which was published by Orpen Press. He is also a poet and his third collection entitled 'Thin Lines' was published just before the pandemic arrived.
Register here
Share this Event